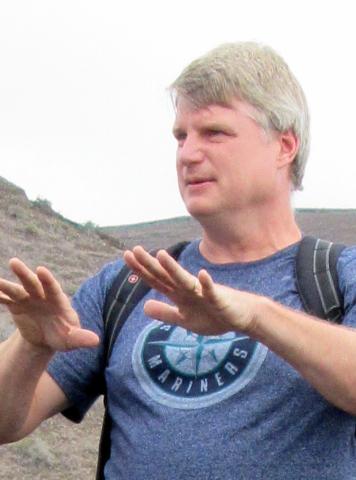 Professor
203 Geological Science Building
573-884-3118
Research Focus
Greenhouse climates, mass extinctions, and paleoceanography using integrated paleontological, geochemical, and sedimentological observations
My research efforts center on determining changes in water column structure and circulation patterns and how they relate to climate evolution, carbon cycling, and the distribution of organisms during transitions into and out of ancient greenhouse climates as well as other intervals of global change. Much of my group's primary data are generated in the stable isotope lab at the University of Missouri that Dr. Cheryl Kelley and I oversee. In addition to specific projects on the Cretaceous/Paleogene and Permo-Triassic boundaries, my current major research themes include:
1) Investigating past ocean circulation patterns using a collaborative, two pronged observational (Nd isotopic ratios in fish debris, oxygen and carbon isotopes in foraminifera) and modeling approach with an emphasis on the waning of the Cretaceous greenhouse climate.
2) Constraining temperature evolution of the Cretaceous greenhouse climate focusing on oxygen isotopic studies of exceptionally well preserved calcareous microfossils. Samples collected during an upcoming IODP Expedition (fall of 2017) should advance investigation of both temperature and circulation history of the Cretaceous.
3) Documenting Ordovician temperature history using oxygen isotopic studies of phosphate-oxygen in conodonts.
Teaching
During my tenure, I've taught courses across the curriculum focused on a variety of geological and paleontological topics.
Geology 1100- Principles of Geology- introductory physical geology
Geology 1200- Environmental Geology- introductory environmental geology
Geology 1400- Mass Extinctions- 5 week course survey mass extinctions in Earth History
Geology 2150- Age of Dinosaurs- survey of dinosaurs and paleontological principles
Geology 3800- Sedimentary Facies and Environments- undergraduate class on sedimentology
Geology 4550- Principles of Paleontology- undergraduate class on invertebrate paleontology 
Geology 8002, Geologic History of Atmospheric Oxygen Levels- graduate class surveying changes in oxygen levels through time
Geology 8002- Geobiological stable isotope techniques- graduate class teaching and applying geobiological light stable isotope techniques
Geology 8400- Ancient Greenhouse Climate- graduate class on ancient greenhouse climates